About
We are a dynamic and fast growing firm with the cardinal aim to deliver quality to our valued customers.
Giving you the best,
That's why we're here!
We are a registered product marketing and distribution company based in Nigeria. We specialize in the production of Corn Flour, Custard Powder, Icing Sugar and allied products with a vision to give value and beat the market with unmatched quality products.
We are one of the best choice when it comes to household products and food products. For over 7 years we have consistently provided unmatched quality products, coupled with the best customer service.
What we Do
We are actively involved in diverse range of products and services. We own the QUEEN ROYALE brand manufacturing CORN FLOUR, ICING SUGAR, CUSTARD powder, baking and allied products. We also own the brand KAYFRESH manufacturing a range of products including liquid soap, car wash and detergents.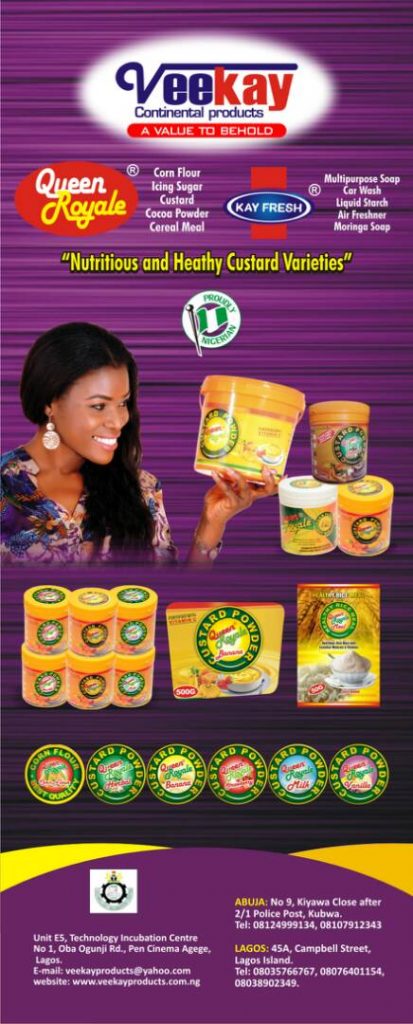 OUR CORE VALUES
These are the core values that speaks in every area of our business. It influences everything about our company from how we work, to what we produce and decisions we make.

Integrity
Integrity is at the center of what we do. We focus on creating products of extreme value that will outperform the expectation of our customers.

Excellence
We go the extra mile in all aspects of our products and services to provide extreme quality to our customers.

Accountability
We stand 100% behind our products and services. We are accountable to our beloved customers, who are at the centre of what we do.
Innovation
We are constantly looking for new and better ways to improve our existing processes to provide you with more exceptional products.

Attentive
We are attentive to the needs of our customers. Their feedback has brought tremendous improvement in all our products.

Creativity
We have a creative approach towards everything we do. We look for unique ways to deliver immeasurable values.